Water Leak Repair Specialists
Licensed Bonded & Insured
24-Hour Emergency Service
Hacienda Heights Water Leak Repair
Many homeowners may be familiar with the frustration of a leaky faucet, but not all leaks are so obvious. Sometimes a leak in a plumbing line under the slab or other hidden areas can go unnoticed until it has caused serious damage to your home. As a homeowner, it is good to be mindful of the symptoms of a slab leak which may include hearing water running under your floors when your taps and plumbing appliances are off, damp or wet carpets, a mold and mildew odor, warm spots on your floor, warped or buckling floorboards, standing water around your homes foundation, decreased water pressure, and a spike in your water bill.
You can use your water meter to help you test if there is a slab leak by turning off all plumbing fixtures and appliances. Then go and watch your water meter for 15 minutes. Your water meter will register whether any water was used during that time frame. If there was, this is a good indication that you have a leak somewhere, and you should call RHS Plumbing as soon as possible for our professional slab leak repair.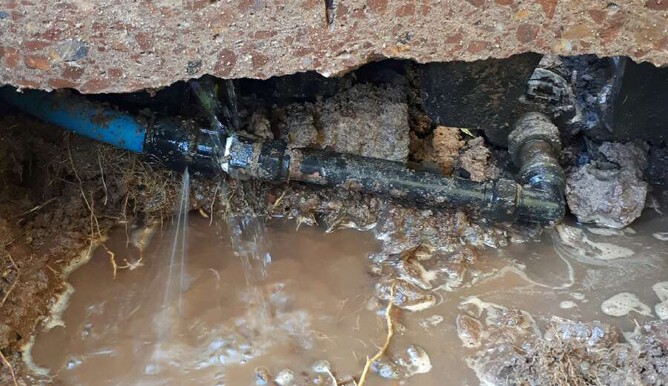 Don't Wait to call a professional to fix the problem!
Waiting any length of time to call a plumber after seeing the signs of a water leak is flirting with the possibility of costly water damage and cleanup. There's a strong likelihood that the water leak has been going on for some time. The day signs of a leak appeared isn't the day the leak began. Take action as soon as you see a sign. An expert from RHS Plumbing will come in to find and repair your leak.
Benefits of Choosing RHS for your Plumbing & Drain Cleaning