Gas Leak Repair Specialists
Licensed Bonded & Insured
24-Hour Emergency Service
Hacienda Heights Gas Line & Leak Repair
Natural gas as a whole is a safe, clean-burning, and affordable energy source for operating appliances and heating your home. However, a slow natural gas leak can cause damage to your property, resulting in health hazards or worse. RHS Plumbing specializes in natural gas leak repairs in Hacienda Heights and surrounding cities and offers 24-Hour Emergency Services to meet your needs. We have a proven track record with a 100% satisfaction rate of finding and repairing even the smallest of gas leaks.
Who's responsible for gas line and leak repairs?
Your local gas company is only responsible for maintaining the gas lines up to your meter. The home or property owner is responsible for maintaining all gas lines carrying natural gas from the meter to the inside of you home. We recommend having your gas lines inspected periodically by a licensed professional to help identify and repair any corrosion and/or leaks that could cause unsafe conditions.
There are several ways that you can go about finding a gas leak in your home. Here are some ways:
Use A Gas Detector: One way you can look for a gas leak is by using a Carbon Monoxide (CO) gas detector. You can either use a handheld CO detector to find where the leak is coming from, or you could have a CO detector placed within your home. Always make sure to leave the space in front of your gas detector empty, so that it can function to the best of its ability. Home places gas detectors are usually embedded with an alarm that goes off when there is over a certain amount of carbon monoxide in the air.

Use The Soapy Water Method: If you want to directly check whether a pipe is leaking, you could use the soapy water method. First, take a brush and mix it was soap and water. After that, brush the soapy water onto the area where your gas pipe is connecting. Make sure to brush a good amount covering the entire gas pipe area. If the water starts bubbling, it could be a sign of a gas leak. A good idea is to brush soapy water on other areas of the gas pipe as well, to make sure that the leak is not somewhere other than where you initially thought it was.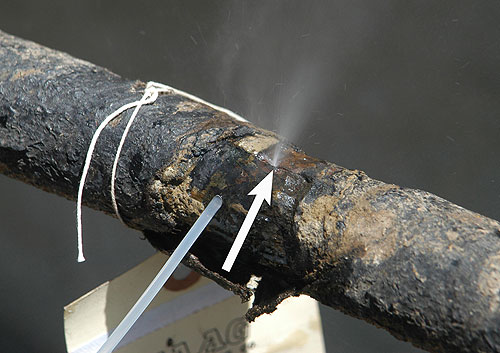 Unpleasant smells: natural gas additives smell like sulfur or rotten eggs
Dead plants: underground leaks may kill nearby grass and vegetation
Unusual sounds: leaks cause appliances to make strange noises or stop working
High bills: leaks will drive up your energy bill
What to do if you have a gas leak
If you suspect a gas leak or smell gas in your home, it is important to:
Leave your home immediately and call your gas company to investigate the problem

Do Not use any electrical devices such as light switches, including cell phone, as they could cause a spark

Do Not start any engines as it could cause a spark and ignite the gas leak

Do Not smoke, use lighters, matches, or use an open flame of any kind

Do Not attempt to find or repair the gas leak yourself. Call an experienced professional to find the source of the gas leak and make the necessary repairs.
Benefits of Choosing RHS for your Plumbing & Drain Cleaning